GET HELP
WITH YOUR
STUDENT FINANCES
If you're currently attending Georgian Court, you'll have access to a student account through our Self-Service system. That's where you can see charges and payments for tuition, room and board, parking permits, and other fees. It's important to keep track of your financial obligations—and we're here to help you understand them.
The Office of Student Accounts manages all student account information and records, including:
Reach out to us if you ever need assistance. We're available by phone at 732-987-2240 and by e-mail at studentaccounts@georgian.edu. To get additional student account information, you can also refer to our FAQs or visit us in person and speak directly with staff. Our office is located in Scully Registration and Finance Center and is open Monday–Friday, 8:30 a.m.–4:30 p.m.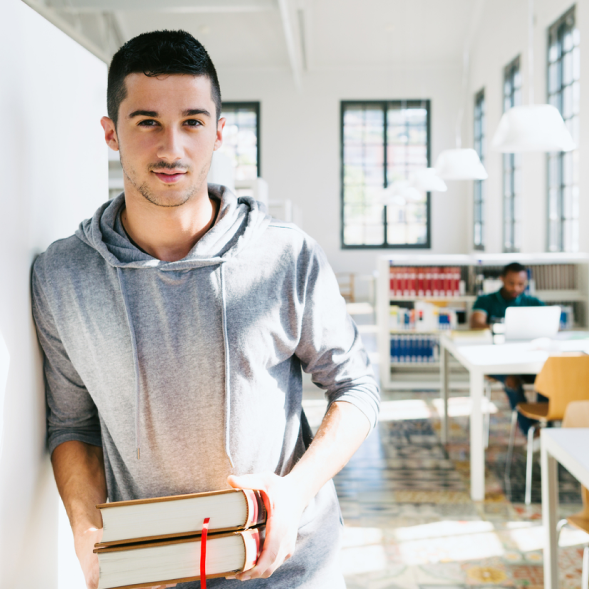 Georgian Court is committed to making college more affordable for as many students as possible. Our current tuition rates represent your costs before financial aid. But nearly all our students receive merit- or need-based awards, such as scholarships, grants, or loans. For a more accurate estimate of what you'll pay, check your student account and anticipated financial aid amounts.
Our e-billing platform, Self-Service, makes it easy to pay bills charged to your student account. Anticipated balances (charges minus anticipated aid) are due three weeks prior to the start of each semester.
Here's how you can make online payments:
To pay offline by check or money order, either visit us in person or mail your payments to Georgian Court University, Attn: Student Accounts, 900 Lakewood Ave., Lakewood, NJ 08701.
We also offer monthly payment plans through Nelnet, which costs $57 per semester. Enroll today to register your account and get started.
Things To Know About Your
Get more information about everything related to Georgian Court student accounts, including our policies and procedures for billing, payments, and refunds. Learn how to view and pay your bills, how financial aid disbursement and tuition reimbursement work, how course withdrawals affect your student finances, and much more.
REQUEST YOUR
STUDENT ID
Student IDs work as library cards and give you access to dorms, meal plans, and GCU campus facilities. You can request an ID starting from August 16 for fall enrollment or January 6 for spring enrollment. Simply fill out an online form.
REGISTER FOR
PARKING
All Lakewood students automatically pay for parking, but you'll need to register your car through Self-Service and get a hangtag. Don't need a parking space? To reverse your parking fees, you can also choose to decline on-campus parking privileges.
BUY YOUR
NJ TRANSIT PASS
If you're a full-time undergraduate or graduate student, you can get a 25% discount on already discounted monthly passes for NJ TRANSIT bus, rail, and light rail systems. Log in to Self-Service and search for "Student Links" to get started.
HAVE QUESTIONS?
CONTACT US.
Location
Scully Registration and Finance Center
900 Lakewood Avenue
Lakewood, NJ 08701
Campus Map
Contact Information
Phone: 732-987-2240
E-mail: studentaccounts@georgian.edu
Office of Student Accounts Hours
Monday-Friday: 8:30 a.m.–4:30 p.m.
Saturday: Closed
Sunday: Closed