Transforming
Students into
Scholars.
Our Holistic Approach To Education
Means Developing The Whole You:
Mind, Body, And Soul.
What sets a Georgian Court education apart is an unwavering commitment to your total development—intellectually, ethically, physically, and spiritually—in the Mercy Catholic tradition. More students turn to Georgian Court University for the following advantages:
Small classes, with a student-to-faculty ratio of 11:1—and zero classes with more than 50 students
Personalized education with all classes taught by faculty members, not graduate assistants
A unique college experience guided by the core values of respect, integrity, justice, compassion, and service
Since our inception in 1908, GCU has evolved to offer a wide variety of academic programs designed for today's world. Explore our programs, find what interests you, and set your bar high. This is your life, and your chance to make a difference.
U.S. News & World Report ranks GCU at #11 in New Jersey for Regional Universities North
GCU has been cited as a "top performer" for social mobility, meaning we help drive the lifelong success of our students
Of GCU graduates placed in the top 20% for income by age 34
Classes taught by teaching assistants
Is our student-to-teacher ratio, so your teachers will have the time and focus to help you succeed
Graduates employed two years after graduation
Undergraduate
Programs
Yes, you'll find classic programs such as accounting, finance, political science, and biology at GCU. But you'll also find majors in growing fields like cybercrime, digital design, psychiatric rehabilitation, and sustainability.
Graduate
Programs
Our graduate-level courses of study are designed to expand your mind and open doors career-wise. Find out what your options are, and take your education to the next level.
EVENING
PROGRAMS
Whether you're a high school student looking to get ahead, a professional pursuing a certificate, or a graduate student, these programs can accommodate your busy schedule.
Four Schools That Support Your Education
School of Arts and Sciences
Experience learning opportunities in the humanities, visual and performing arts, natural sciences, social sciences, and mathematics, preparing you for a thriving career in a field you love.
School of Business and Digital Media
Engage in a rapidly changing world through hands-on development and leadership opportunities, and career exploration through experiential immersion.
Hackensack-Meridian Health School of Nursing & Wellness
Learn the fundamentals from professors who have served in the field. Our programs are accredited by the Commission on Collegiate Nursing Education and the New Jersey Board of Nursing.
Our small class sizes and individualized mentoring enable you to develop skills and tailor them to the career of your choice, through undergraduate, graduate,and certificate programs.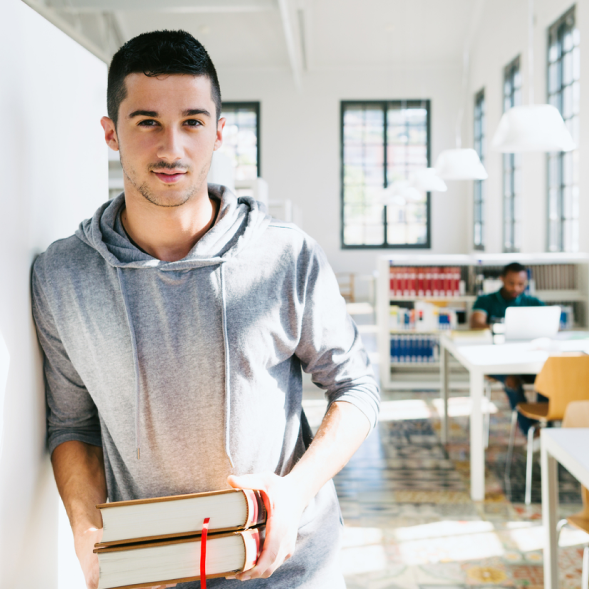 Set on 150-acres in Lakewood, New Jersey, Georgian Court offers learning in a more personal environment. Here, there are no classes with more than 50 students. Faculty are plentiful and are fully engaged in promoting the success of every student. Our community includes more than 1,600 undergraduate students and close to 600 graduate students.
Interested in taking your education to a higher level? Then look into our university or department honors programs. You'll join your professors in important research, from examining invasive plant species and studying the use of Narcan to fight the opioid crisis to conducting multicultural research in Italy through the Psychology Scholars Program. Excel and you can also become part of GCU's 20+ academic honor society chapters.
Across the university, GCU students work with faculty members to conduct research that has an impact on our community and our world.
Many college students need extra support at some point during their college years. We've got you covered. GCU is here for you, with specialized services that keep you moving forward. These include:
Other Programs and Partnerships
Along with our on-campus offerings, GCU works in partnership with other locations to bring students additional educational opportunities. Finish college, work toward a specialized master's degree, or enrich your career with noncredit and certificate programs.
GCU@ROWAN COLLEGE OF SOUTH JERSEY
GRADUATE EDUCATION PROGRAMS
NONCREDIT AND CERTIFICATE PROGRAMS
Spanish Language
Accessibility
Georgian Court is accredited by the Middle States Commission on Higher Education, an institutional accrediting agency recognized by the U.S. Secretary of Education and the Council for Higher Education Accreditation. We're also licensed by the New Jersey Office of the Secretary of Higher Education. In January 2020, GCU received certification that it effectively meets the conditions for continuing sponsorship within the Conference for Mercy Higher Education.