DIVERSITY, EQUITY, AND INCLUSION
BUILDING
DIVERSE AND
INCLUSIVE SPACES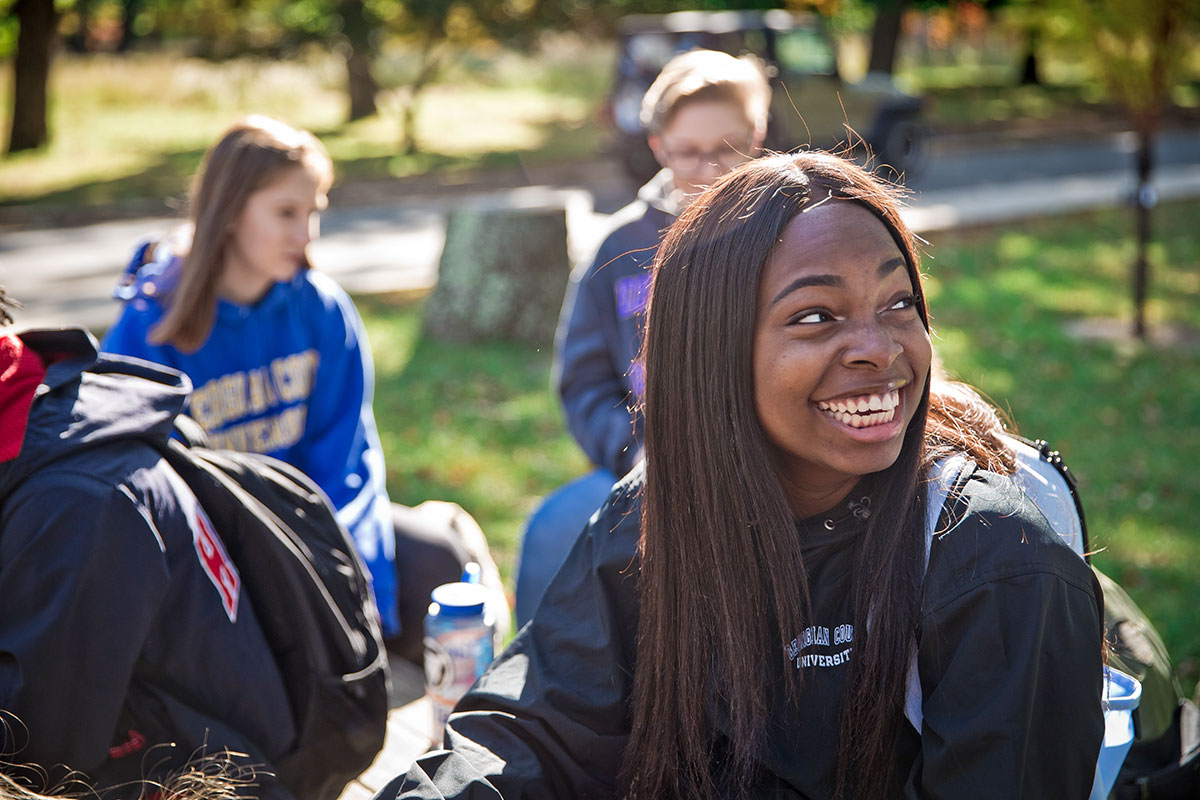 DIVERSITY, EQUITY, AND INCLUSION
Georgian Court University provides students with wide-ranging experiences to ensure they graduate with the knowledge and skills necessary for living, working, and thriving in a global society. We strive to create academic spaces and work environments in which diversity, equity, and inclusion are visibly celebrated and promoted. At the heart of our DEI efforts is the desire to build a respectful community that recognizes and welcomes the full spectrum of humanity. This is achieved through university programming, training for faculty and staff, as well as academic and financial support for GCU students.
The Office of Diversity, Equity, and Inclusion represents our strong commitment to the mission and mercy core values of respect, integrity, justice, compassion, and service. Launched in January 2021, our office includes two Chief Diversity Officers (CDOs) and four committees under the Council for Diversity, Equity, and Inclusion (CDEI). Together, we advance DEI as part of GCU's larger vision for a social justice that centers the dignity of the whole person.
CDEI Mission
Led by the Office of Diversity, Equity and Inclusion, GCU's DEI facilitates diversity, equity, and inclusion efforts in all university operations and within the local community. Specifically, we work to:
Promote awareness of diversity/inclusion related issues through campus-wide programming and educational opportunities
Ensure that GCU actively recruits and retains a diverse university community
Advise GCU leadership on matters relevant to campus-wide diversity, equity, and inclusion
Gather and assess the overall GCU campus climate as it relates to diversity, equity, and inclusion
GCU's Chief Diversity Officers
The CDOs are charged with leading institutional diversity, equity, and inclusion efforts. One role is focused on institutional and student affairs and the other on academic affairs and community outreach. The CDOs collaborate with each other and the CDEI to align and bring common purpose to the university's DEI efforts grounded in the Mercy core values.
DIVERSITY, EQUITY, AND INCLUSION
YOU WON'T JUST FINISH COLLEGE. YOU'LL THRIVE.
We're actively working to redefine who gets to go to college—and who graduates. Through new initiatives and programs, we're making sure that students from diverse backgrounds get the academic support, mentoring, resources, and financial aid they need to succeed. In addition to our high retention and graduation rates, GCU is a "Top Performer" for social mobility (U.S. News & World Report). Our goal is to continue improving access to education and inclusivity for underrepresented student populations.
Chief Diversity Officers dedicated to advancing diversity, equity, and inclusion across campus
Multicultural student organizations that celebrate racial and ethnic diversity
Academic support workshops for Latinx, first-generation college students who are accepted to our VAMOS cohort program
Percentage of incoming students receiving aid, with 100% of full-time first-year students being offered aid in 2021-2022
TOTAL STUDENT POPULATION (2021-2022)
STATES AND COUNTRIES REPRESENTED
FIRST-GENERATION COLLEGE STUDENTS
LOW-INCOME PELL GRANT RECIPIENTS
NONTRADITIONAL AGE (25+) STUDENTS
PROGRAMS AND RESOURCES FOR EVERY KIND OF STUDENT
MULTICULTURAL STUDENT ORGANIZATIONS
GCU has more than 40 clubs and organizations to choose from. Promote greater awareness and cultural exchange with the Black Student Union, Global Lions, Latin American Student Organization (LASO), and LGBTQ at GCU.
VAMOS AND AVANZANDO (LATINX)
If you identify as a Latinx, first-generation college student, VAMOS was created just for you. Get academic support and mentoring, attend 12 workshops through UnidosUS' Avanzando program, and connect with other Latinx students.
TRANSITION AND CAREER STUDIES (TCS)
TCS is a four-year transition and postsecondary program for students with intellectual disabilities. Participants come to GCU for on-campus experiences, receive support from peer mentors, and learn academic and social skills.
TRIO-STUDENT SUPPORT SERVICES (TRIO-SSS)
This federally funded program helps us ensure that every student thrives at GCU. Eligible students will get access to academic resources, including tutoring, study skills workshops, mentoring, and financial literacy training.
EDUCATIONAL OPPORTUNITY FUND (EOF)
Designed for underrepresented and financially disadvantaged students in New Jersey, the EOF program provides academic coaching and support services. Accepted first-year students join a six-week Summer Program at GCU.
We want you to be successful in your education. With that aim, Student Success offers many resources: disability services and ADA accommodations; peer tutoring; and The Learning Connection, a support program for students with disabilities.
LION'S TABLE TALK:
UNDERSTANDING RACE
The Council for Diversity, Equity, and Inclusion hosts Lion's Table Talks to encourage open and productive discussions about modern social issues. By engaging both students and the community, we hope to inform the public, challenge harmful stereotypes, and bring about positive change.
On June 18, 2020, we invited Dr. Sherritta Hughes, Dr. Joy Smith, and Kayla Wilson '21 from GCU to discuss wide-ranging issues related to race. They were joined by local young adult activists Maurice Diawara and Caleb Lewis. Watch below, or check out our other talk, an LGBTQ Panel Discussion.
Every year, we ask first-year and senior students at GCU to complete the National Survey of Student Engagement (NSSE). In 2021, despite the difficulties of the pandemic, we received some positive responses about student engagement, inclusiveness, and cultural diversity.
Compared to peer colleges, our survey results show that:
We hope to continue expanding our DEI efforts so that students feel appreciated, well informed, and ready to engage with diversity, equity, and inclusion for a lifetime beyond GCU.